A few things about Dante…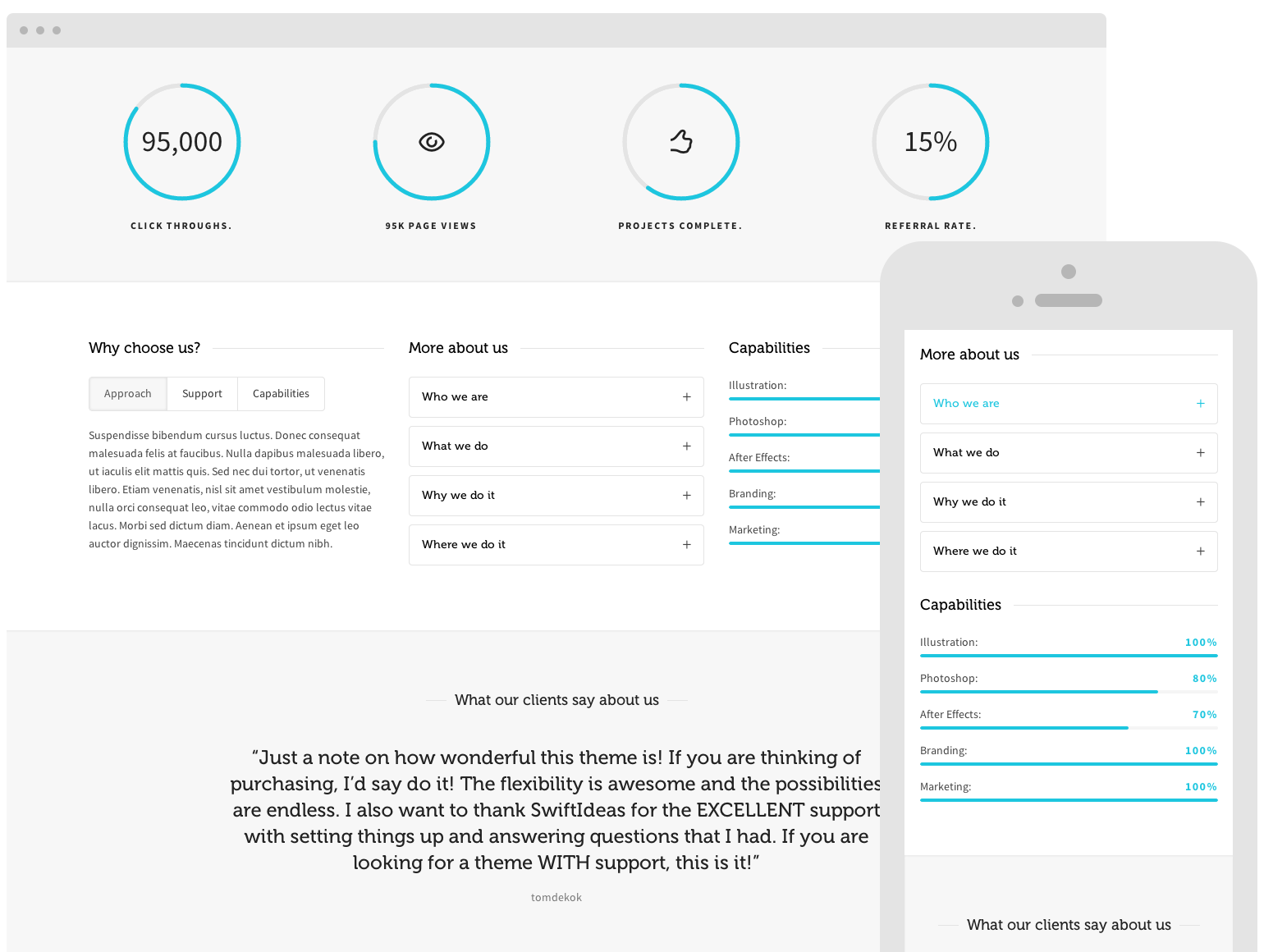 Full-screen video.
Dante supports native video playback for parallax backgrounds,
and it also allows you to play your videos full-screen.
A few of Dante's core features
Jenn is artistic and has eye for detail. She was a pleasure to work

with. It's evident she values everyone, and everyone's role on the 

team. She takes creativity to the next level and knows how to 

execute every step of the way. I would highly recommend Jennif

fer for a director or web designer role.

Jenny Wagner

UI/UX Designer II at InEight Inc.

I've known Jenn for seven months working together in a new company, diligently trying to define themselves. She demonstrates responsibility and has an entrepreneurial spirit. Overloaded with work she made time to help create graphic artwork for a project I needed help with outside of her normal tasks. Jenn is a true professional. She spent all the time necessary to help the company develop a software application in the Cloud. She contributed with wireframes, mock-ups, icons, user navigation and extensive documentation. She was always available to communicate and was open to feedback. The project had the added complexity of requiring her to accurately communicate all her brilliant designs with development and testing resources on the other side of the globe. I would definitely recommend Jenn for UX and Cloud software. Jenn is a valuable asset to any organization, but I know that she will demonstrate a strong passion for the company she's helping.

Michael Wellington

Scrum Master at InEight

Jenniffer is both contentious and dedicated in her work. She is a 

very talented and creative designer, not to mention a pleasure to 

be around. I certainly would recommend her for projects requiring

a creative perspective.

Mark Miller

Multimedia Designer at Communication Design

Startup work is not for the weak. Either you thrive under stress and own it, or you crumble under pressure. I have been fortunate to have worked with Jenniffer on lots of projects and count on her as a valuable team member. Jenniffer is an exceptional designer, with experience working with many types of applications and my first choice when it comes to any collaboration. Her extensive background in UI/UX made delivering projects a breeze. To only talk about her skills as a UI designer is a disservice to her and what she brings to the team. Since I started working alongside her, she has taken many roles within the organization. Jenniffer is as comfortable pushing out mock-ups as she is running a tech team. I have worked alongside her and under her leadership and always look forward to the next time our paths cross.

Alex Oatridge

Director of Engineering at MiTú Network

As the Designer for the Mollen Foundation Preventing Childhood Obesity, Jenn develops marketing materials, manages our web site and supports our online strategy among other tasks. Her work is exceptional and she genuinely cares about the success of the organization. Jenn goes above and beyond to help our non-profit foundation in any way that she can. Jenn delivers well thought out work, on time and on task. She is a fantastic project manager and can handle multiple projects at once.

Jodi Cruso

Executive Director at Mollen Foundation

Jenniffer is among the most creative minds I have worked with. In addition to dazzeling creation power, Jenniffer is an outstanding "out of the box" thinker and she knows how to organize, communicate and execute. On one task, Jenniffer single handedly managed and supervised the development and deployment of entire line of crafts and greeting cards in digital and print format. Jenniffer is able to deliver on time and exceed everyone's expectations
Meet our team
Class aptent taciti sociosqu ad litora torquent per conubia nostra, per inceptos himenaeos. Nulla nunc dui, tristique in semper vel, congue sed ligula. Nam dolor ligula, faucibus id sodales in, auctor fringill torquent per conubia nostra.
FIND OUT MORE ABOUT US